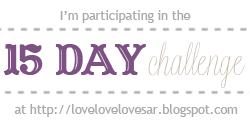 Randomness is something I'm pretty good at, so without further ado, 15 random facts about myself.
I don't like meat with bones in it. That might be part of the reason why I boycott KFC.

I've lived in eight different houses in my life and now I'm once again living in the house where I lived when I was a little kid.

I studied three languages in college: Chinese, Japanese, and Spanish

I'm the oldest of seven children—my baby sister is 15 years younger than I am.

Coming from a family with that many children, I live by a whole set of strategies designed to make sure that I get enough to eat.

I love ballroom and swing dancing—how good I am at it depends on my partner.

I got both my Mrs. Degree and my Bachelor's degree before I turned 21.

On that note, I got married a week before final exams began during the Fall semester of my Junior year.

I collect hobbies: scrapbooking, dollhouse decorating, jewelry making, embroidery, and lately, sewing.

I painted my kitchen red and my ballroom (it's a completely empty room with a wooden floor) yellow. They are right next to each other so it looks a bit McDonald's-ish but I still like it.

I "rebelliously" got my ear pierced for the second time on my 18th birthday, but I almost chickened out because of the needle. And, actually, my Mom took me to the shop and paid for my piercing. I'm not very good at rebellion.

I have been known to be a little obsessed with the Pirates of the Caribbean movies. I made sure that my family's computer's desktop screen was always a picture of Captain Jack Sparrow for years, until he was replaced by a picture of Prince Caspian from Narnia.

I love country music—either the funny kind (i.e. Brad Paisley's "I'm Gonna Miss Her") or the sad kind (i.e. John Rich's "Shutting Detroit Down"), I'm good with both. The sad kind is dangerous to listen to while driving, though.

I don't like pastel colors. Bright turquoise, fuschia, black, electric blue, that's more my style.

I love the idea of long hair but I don't have a long enough attention span for it. I always get bored when I'm "growing it out" and chop it all off after a couple months. It's rarely long enough to reach my shoulders.