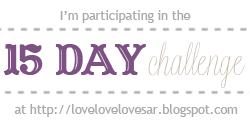 I'm not really sure what the best day of my life has been. However, I do know one thing for certain, it was NOT my wedding day! That's not saying anything bad about my wedding—from what I hear, it went perfectly and everything was beautiful. However, I only have very vague memories from the day, and most of them involve posing for pictures. I don't know if it's normal or strange to not remember your wedding--could anyone tell me?
One very good day that I've had, however, was July 2, 2010; the day that Angel asked me to marry him. It was about two days after he'd arrived for a visit to my hometown, and it was the first time I'd seen him in three months. He had taken a vacation from work and had come to stay with my family for two weeks. This was the first time that he had met my parents, my siblings and all of my hometown friends, so it was quite the trip for him! My little sisters were enthralled with Angel and spent most of the time talking his ear off, and I had to claim girlfriend rights to even get a seat next to him at the dinner table.
By the time he came to visit my family and I, Angel and I were already planning on getting married, in a very businesslike fashion. Our love story is a story for another time, but for now, I can just tell you that it didn't really start with love…or romance…or a date, or anything like that. Just to give you some examples, once, Angel asked me on the phone what my idea of a romantic date was (ya know, just for future reference), and my answer was the very brilliant, 'Umm…ahh…I don't know. Something fun? Going out to a restaurant, maybe?" and another time, Angel told me that he planned to marry me and then, afterwards, fall in love with me, old-school arranged marriage style. I didn't bother to tell him that that wouldn't really work because he already knew me, unlike most couples brought together in arranged marriages. I also knew at that point that he was already crazy about me, so I was pretty sure that even if he wasn't saying it, he loved me. I'm not sure why, but Angel really, really loves the idea of arranged marriage. Maybe it's because he didn't have to have one.
Still, even when Angel came for a visit, I wasn't too sure that he was going to propose. The rest of my family was very certain that he would. Angel had asked my parents a month or so before his trip for permission to marry me, and they'd said yes, which was why they were so confident that he was going to propose to me, but I didn't quite share their confidence.
On the second day of his stay, my whole family, plus Angel, went out to breakfast. That is to say, the rest of my family went out to breakfast at McDonald's, and dropped Angel and I off by ourselves at a cozy little local restaurant to eat breakfast by ourselves. The grins, waves, and thumbs-up from from my family as they drove away were hilarious, if not embarrassing. We ate a delicious breakfast, and then I suggested that we walk to a nearby park that had a reflexology path (a pathway full of pointy stones that you are supposed to walk on with bare feet for health purposes). They are very painful, and I wanted Angel to try it out since he'd never walked on one before, and we raced around the path, walking as gingerly as we could, to see who could do it the fastest. I'm not sure who won, although I have a feeling that Angel gave up before reaching the end of the path. We sat down on a bench to chill for a while, and Angel called his parents on my cell phone since he hadn't spoken with them since he arrived. Actually, to this day I'm not too sure what he said to them because this was before I'd started studying Spanish.
We tried to take a picture.
Minutes before he popped the question. Aren't we cute?
Then Angel took a little box out of the backpack that he'd randomly brought with him (turns out that the ring box was too big to fit in his pocket, so Isaac lent him a backpack to carry it in), went down on one knee and said, "I do love you, and I want to spend the rest of my life with you, so will you marry me, Honey?"
I said yes, of course, and we walked home and were greeted by my very eager family who had eaten quickly at McDonald's and had been waiting anxiously for our return.
The restaurant where we ate breakfast that morning. We went back for dinner! :)
My ring! Fun fact: I no longer have the engagement ring he gave on that day...because I have a better one!
Because I'm a gold-digger.