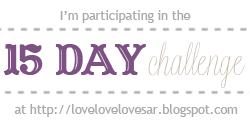 I love countdowns. I'm currently counting down to my birthday and our early August vacation. However, I'm also famous for not counting on something happening for sure "until the plane tickets are bought." This just means that I don't want to risk getting my heart set on anything till I know that it's for sure. Things get a little more certain once you've bought the plane tickets . Once you've paid your deposit for the rooms at the bed and breakfast. Once you've sent in your application fee for cosmetology school.
Pretty sure, but still not for certain.
I have plans for the next six months. I plan to turn 21, and after that go on a week's vacation to Minnesota. I plan to start attending cosmetology school full-time, while keeping house and editing Angel's essays for grad school. I plan to celebrate my second anniversary in December. I plan to still be blogging six months from now.
I hope that these plans work out, but I don't know for sure that they will. When the time comes a little closer, I'll be more certain, but more likely, there are fewer expected events to come in the next six months than there are unexpected events.
I once planned to spend a semester studying in China. I had the scholarships lined up and I'd started filling out the application form. It didn't happen, because God had other plans. Sometimes it's rough to accept His plans for your life, especially when you have your heart set on your own. I hope that I never get too attached to my plans that I fail to notice the plans that He has set for me.
These verses have been very meaningful to me during times of my life when it seemed like my plans had nothing in common with God's plans for me.
Hebrews 12:1-2 "Therefore, since we have so great a cloud of witnesses surrounding us, let us also lay aside every encumbrance and the sin which so easily entangles us, and let us run with endurance the race that is set before us,
fixing our eyes on Jesus, the author and perfecter of faith, who for the joy set before Him endured the cross, despising the shame, and has sat down at the right hand of the throne of God."
What stands out so powerfully to me is that—we're called to run with endurance the race set before us. Sometimes I prefer to ignore that part. After all, why isn't it "run with endurance the perfectly good race that you chose for yourself"?
I think there's a reason why the verse doesn't say that. God knows the purposes He has for us and the race He wants us to run, so let's not get too set on our own ideas of the path we think our lives should take. It's okay to have plans, and countdowns too, but don't be surprised if your own plans are replaced with something better somewhere along the way.