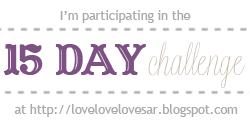 I'm pretty sure that I have a mental block on any embarrassing moments in my life, because most of the time when asked this question, I can't recall any. Although, to be honest, I would have to say that any embarrassing moments that I do remember are associated with Angel. Maybe it's just part of getting used to life with a man? Take, for example, the fact that Angel's favorite icebreaker question is "Were you breast-fed or formula-fed as an infant?"
He tends to ask this of all new coworkers and friends of mine who he is meeting for the first time whenever there is a lull in the conversation. I find it very strange, and most people do a double take, for sure. But he considers this a normal, get-to-know-you type question. Maybe it's because he's a nurse?
That doesn't embarrass me so much anymore, because I'm rather used to it by now. The number one most embarrassing story that I can remember is also associated with Angel. I went back and forth for a long time about whether I would post this, or whether it was too scandalous for a family blog. I decided in the end that I would, since most of my family already knows the story and since children were present at the time that it occurred. I guess it's not that bad, although I'm still pretty horrified at the memory.
Angel and I had been married about nine months when we went on vacation with my grandparents, aunts and uncles, and cousins. We were all staying in a cottage together, and, since this was Angel's first time coming, the first evening at the dinner table, Grandpa was telling him all of the house rules. Many of the rules involved conserving water as much as possible, because there were many people staying in the house, and we didn't want to overtax the septic system. One of the rules was something like "Two minute showers." At this juncture, Angel pipes up, "Oh, don't worry about that. Rachel and I will save water because we take showers together!"
This was at the dinner table. Attended by my grandparents, aunts and uncles, and young cousins. Angel's comment was followed by immediate silence, my face turning bright red, and then lots and lots of laughter. Maybe in some family cultures saying something like that would be normal....but I can tell you that that is not a normal thing to say in my family! The adults reassured me, "We were once newlyweds too, you know!"
I didn't feel reassured. Husbands, what can you do with them?
Speaking of husbands, have you noticed that I now have a Wedding page on my blog? Check it out for pictures!