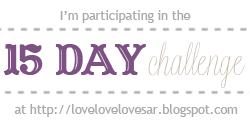 Some people don't play favorites. I, most definitely, do. Here are a few:
Favorite TV Show:
Gilligan's Island. Why yes, I do own all three seasons on DVD, and the Professor may or may not have been my first crush.
Favorite Vegetable:
Bok choy, baby! If you've never eaten this stir-fried and accompanied by rice, you should!
Favorite Blog Post:
Oh man, this one's hard for me...my own writing amuses me so much! I do like this one especially:
You Might be a Newlywed If...
Favorite Drink:
Air Soya--I'm not sure if this is soy milk or soy water or soy juice, anyone know?
Favorite Sister:
Oh no, I'm probably not allowed to say this one in public...
Favorite Mom:
Okay, I know you can't tell which one is the mom because we all look like sisters (haven't heard that one a million times...) so she's the one in blueish-black. And she's quite awesome, which is why she's my favorite mom. And we are posing as if we were going to be on the cover of a Korean drama, which explains the hearts.
Favorite Pirate:
I don't think this one requires any explanation.
Favorite Picture of Angel and I:
This was taken at our engagement party--I've always loved it, inexplicably, perhaps.
Favorite Sad Country Song: