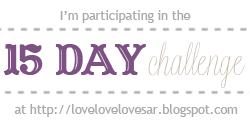 I frequently change my clothes. Occasionally my hair color, and once a week, the color of my nails. But really, besides that, there's not too much I would change about myself. Perhaps the need to eat and sleep--that can be so inconvenient at times!
What I would never change is my past--my childhood, the way I grew up. I'm grateful for the choices my parents made. Growing up as the oldest of seven kids was such fun, and so was being homeschooled, even if I did spend my entire senior year talking Mom out of all the assignments I was supposed to do and substituting more enjoyable ones. We moved several significant times while I was growing up, and while it's hard to be grateful for cardboard boxes, packing tape, U-Hauls, airplanes, and suitcases--I wouldn't change a thing. The lifestyle that my parents chose, and the places we've lived and the situations I grew up under (hey, nine weeks with seven people living in a 1970s motorhome, anyone?) have given me the passions and the life skills that I have today.
And have made me determine that I will never go camping again.
My dad made this video for my 16th birthday. Here's a little peek into what a few years of my growing-up life looked like. You will learn very amazing facts if you watch carefully, among them: that my hair was pin-straight until I was 15; that for a couple years in high school, my super short hair and scrawny figure led multiple strangers to inquire about my gender; and that I was an infamous "drama queen" back in the day.