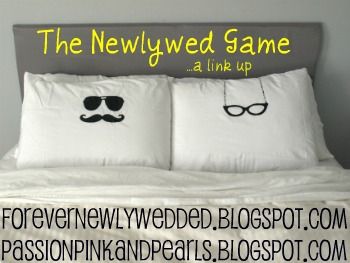 1. How long were you dating your spouse before getting engaged?
Rachel: We courted from March 23rd till he proposed on July 2nd. So, 3 months and a week? It only took that long because we didn't see each other the whole time.
Angel: Rachel was not allowed to date, but every time we we

re together and wanted to do something

I had to buy our mutual friend (third person) movie tickets, meals, and provide rides (it's not a date as long as there is at least 3

people)

. So, I was basically t

aking

two people out.
2. Do you remember your first big fight, if so, what was it about?
Rachel: I know our first fight wasn't till after we were married...it may have been the whole honeymoon incident where I took a shower and spilled water from the shower on the floor and used a towel to soak it up, which upset Angel greatly. There were a handful of other big ones that first year But we've both learned a lot since then. The 2nd year of our marriage was much more peaceful than the first.
Angel: It's not a fight if someone ends up crying. It was about towel

s.
3. Who said "I love you" first?
Rachel: Angel said it first, on the phone. What he said was, "I love you." and then I said, "What?" and then I guess he freaked out and said, "What I mean is, I care about you." So he pretty much took it back. And then the next time, I told him "I love you" in an email that I sent him about a week before we got engaged, and I didn't take it back. Angel originally told me that he had decided not to fall in love with me till after we got married, and I thought that was weird, but it didn't concern me too much because it was kind of obvious that he was crazy about me.
Angel: I DID! But then I kinda of took it back and said it was like a friend thing. I thought it was too soon for me to tell her.
4. What is your spouse most afraid of?
Rachel: Nothing that I know of.
Angel: Box Elder Bugs on the doorknobs, daddy long legs in the bathtub, and Ernest Scared Stupid (Movie).
5. Who uses more hair-care products?
Rachel: I own more products, but Angel uses his more consistently.
Angel: I use to, but since Rachel started Cosmetology school she has taken over. But I think I still may use more since I use it every other day.
6. Who initiated the first kiss? How was it on a scale from 1-10?
Rachel: Angel asked for it, but I did it. And it's the only first kiss I ever had so I'd say it was a good one.
Angel: I asked, but Rachel got me out of surprise. I totally did not expect it, especially from her. It was fast, surprising, and her first kiss. I give it a 10/10 because months later I still remembered that surprising kiss.
7. You are on your way out, and need to turn around because someone forgot something... was it you or your spouse who most likely forgot something?
Rachel: It was Angel. One time we left for a trip to TX and he forgot his wallet.
Angel: It's me.
8. Who takes longer in front of the mirror? You or your spouse?
Rachel: Angel. I'm always ready to go before he is.
Angel: Rachel of course, she has to do her bangs, and put on eye-liner.
9. What would your spouse name your children if you had one girl & one boy?
Rachel: Whatever I told him to name them.
Angel: Rachel would name them: Ariel for a girl (which is great because it can easily be pronounced in

S

panish) and Cyrus for boy (which reminds me of the bad guy in Con-Air)
10. If you were able to give away one thing that your spouse owned, what would you choose?
Rachel: This t-shirt he wears around the house that says "The Official Unofficial T-Shirt of the 1984 Olympics". I'm slightly scared that it might actually be from 1984.
Angel: Her blanket, just to see the psychological withdrawal symptoms.